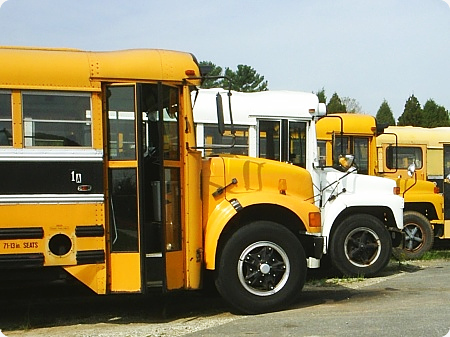 Bus Ministry
The Bus Ministry of Trinity Baptist Church is an ever-expanding one. It currently has 16 routes going to many of the surrounding counties. Averaging more than 600 riders a week, Pastor Cox has had a burden for more than 25 years to ensure that every rider goes home with something to eat, both physically and spiritually.
Sunday School
At Trinity Baptist Church we have Sunday School classes for all ages. The same Bible lesson is taught to attendees beginning at the age of four on each listener's level. A nursery is also provided for all services including Sunday School.
We also have college and career classes, young couple's classes and several others for our adults. Our main goal is to have a place where every visitor can feel they belong.
Youth Ministry
Hired as Youth Pastor in fall of 2005, Bro. Steve Cox is the current youth pastor of Trinity Baptist. Under his leadership, the Youth Group has stayed its course on the Old Paths, seeing many of its young people take part in various ministries after graduation.
Also within the last few years, Bro. Steve felt the need to start a youth choir. The TBC Youth choir is not just for teenagers but for all ages; and the main goal of this youth choir is worshipping the Lord with our music. This has been a ministry that has blessed many and helped our youth group grow spiritually in a mighty way.
Spanish Ministry
Brother Roscoe Morgan was hired on staff at Trinity Baptist Church in 1995. He was immediately able to help in speaking to many Spanish people who were already attending Trinity Baptist. With the work growing, Pastor Cox felt the need to have a Spanish service; and in 2003, Trinity Baptist Church formed the Spanish Church with Brother Morgan overseeing it. He has continued to work with the Spanish people since that time and the Lord has continued to bless. The Spanish church at Trinity Baptist has three services a week and averages one hundred in Sunday School.
Special Forces (Kid's Ministry)
Recently, the Trinity Baptist Church has revamped its kids' program. As the head of the TBC Special Forces, Bro. Jacob Freeman teaches the children songs of the Saviour and gives a Bible lesson each Wednesday night.
(Info: Wednesday night 7pm-7:45; ages 5-12)
Trinity Baptist Academy
Early in 1995, Pastor Cox realized the need to have a Christian school, and in the fall of 1995 it began its first year. The Christian School is a place where the students receive first class teaching, academics, and athletic opportunities while keeping the Word of God as the centerpiece.
Trinity Baptist Bible Institute
Founded in the fall of 2003, the Trinity Baptist Bible Institute teaches men who have a desire to know more about the Word of God, and trains those who have been called of God to preach. TBBI was originally started to teach and train those men who had families and full-time jobs; but now it has also become a home to young men who wish to know more about the Bible and wish to serve God with their lives.
 Radio Ministry
There are many different radio stations that the Trinity Baptist Church is featured on. Pastor Cox uses these opportunities to give listeners encouraging singing and preaching throughout the work week and over weekends.
(Stations: WPIP, 880 AM / Monday-Friday / 8-8:15am ; WDSL, 1520 AM / Tuesday & Thursday / 12:30-12:45 ; WVGV, 89.7 FM / Monday-Friday / 6:30-6:45)
Media Ministry
Every Service at TBC is recorded on CD and DVD. All these are available for purchase for $3.00. You can also view our services weekly online here. And you can find the TBC Youth Choir online here.
We also have various singing CDs from both our Youth Choir and Adult Choir; and Preacher Cox also has a singing CD.
Nursery care is provided for every service.