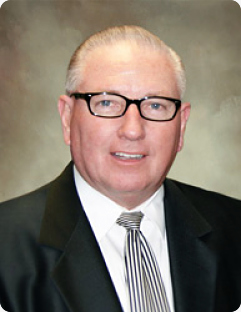 Pastor Darrell Cox was born on April 29, 1955 to Ray and Betty Cox of Beaver, West Virginia. Character, values, and a strong work ethic were instilled in him at an early age. At the age of fifteen, an event would take place that would change not only his life, but the lives of tens of thousands of others. Through a clear presentation of the Gospel by Pastor Gene Garlow at the First Baptist Church of Beaver, Darrell Cox received Jesus Christ as his personal Saviour.
Never ashamed of what Jesus had done for him, he led his high school sweetheart, Marilyn, to Christ not long after his conversion. Later, she would become Mrs. Darrell Cox. She would never play the church organ or sing solos before the crowds, but she would fulfill God's purpose for her life, becoming the perfect pastor's wife. She is a living testimony to the saying that, "behind every great man is a great woman."
One day, a church in Bolt, West Virginia contacted Brother Cox about becoming their pastor. Submissive to the Will of God, they moved from a new brick home into a double wide trailer that served as the church's parsonage. Preacher Cox went to work, and through his leadership and the blessings of God, that little church would grow from 35 to over 300 in a town with a population of 500. Preacher Cox has always been a great example for others to follow; he would never think of asking his people to do something he wasn't willing to do himself. He not only served as pastor, but was also principal of the Christian school, Bus Captain, Bus Director, Song Leader, and sometimes even the janitor.
A few years passed and through the recommendation of Dr. Bobby Roberson, Trinity Baptist Church in Mocksville, North Carolina contacted Brother Cox about becoming their pastor. Although dreading to leave family and friends behind, once again, Preacher Cox was open to the Will of the Lord. December 2, 1984, Trinity Baptist Church voted Preacher Cox in as their new pastor.
Since Preacher has been here, the church has grown from an average attendance of around 200 to almost 900. When he took the church there were five bus routes, currently there are 16 bus routes, some using two buses every week. Under his leadership, the church has started Extension Sunday Schools, Bible Clubs, Project Chapels, a Rest Home Ministry, and a Daily Radio Ministry. Brother Cox serves as his own Bus Director and is the captain of the Lexington I bus route.
Pastor Cox is a great soul winner. His life's verse is Proverbs 11:30. Every week he leads people to Christ personally and he consistently has converts down the aisle for believer's baptism. His burden for souls and faith in God to meet the need has pushed our missions outreach support to over 200 missionaries worldwide.
Beside his busy schedule at Trinity Baptist Church, Pastor Cox takes time to help other churches start bus ministries and establish Soul Winning programs. Without a doubt, it can be said that he is one of the hardest working preachers alive.